Toronto Puppy Yoga
Immerse yourself in a world where puppy love and yoga combine to create an experience unlike any other. We can't wait to welcome you to our Toronto studio and pop-up locations.
View The Schedule
Alcohol Optional
Mimosa's not your thing? No problem, swap it out for a glass of orange juice instead!
No Yoga Experience Necessary
Our classes are designed for the beginner in mind! No previous experience required
Yoga Mats Provided
Keep your commute light - we provide yoga mats on site for your experience.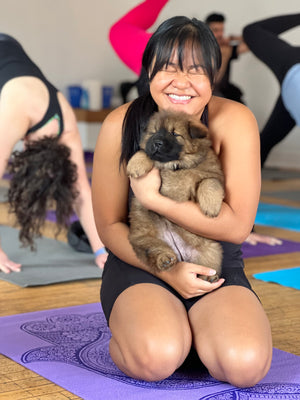 Boost Your Physical Health and Mental Health
Unwind with 45 minutes of flow yoga with a litter of adorable puppies followed by a refreshing mimosa and 30 minutes of puppy cuddle time.
$60 per ticket
Each Ticket Includes
(1) 75 Minute Puppy Experience (per person)
(1) Bottomless Mimosas (or non-alcoholic alternative)
(1) Take home polaroid picture
Customer Reviews
07/26/2023
Great experience
Wonderful experience! Full of cuteness!
Han H.

United States
07/16/2023
Best time ever!
We had such a fun time. The puppies were so cute and the staff were so kind and attentive. Would 100% do again!
Natalie D.

Canada
07/01/2023
Free serotonin
Are you sad? Are you stuck in a never ending turmoil? Can't see the light at the end of the tunnel? Who cares about all that when a little itty bitty ting is licking your face!
Israt S.

Canada
07/01/2023
Amazing activity
Amazing place, ambiance and staff! Hopefully they open one in Montreal
Reemabye L.

Canada
05/03/2023
A must do!
If I could do puppy yoga every single week I would! had a great experience - yoga instructor was awesome with the distracting puppies, allowing people to participate at their own pace. Messes were cleaned up quickly. The amount of time spent there is well worth the price. Will definitely be visiting again.
Hayley C.

Canada
Disclaimer
Participating in our Puppy Yoga classes has safety risks involved as live animals (dogs) are onsite. When interacting with live animals there is a risk of injury, such as scratching and biting. Animal safety is also of outmost importance, we ask that you are attentive to your environment during the event and stay low to the ground when holding animals.