Doggos is teaming up with Stackt Market again for a unique fitness class using their newly opened Bark Yard to redefine what it means to be in a dog park! This interactive outdoor yoga class is the perfect way to bring together dog owners and lovers to focus on self care! Our instructor will lead you in a 50-minute flow yoga class where pups will roam freely in the park while attendees work up a sweat. It's called downward dog for a reason - dog's help us be more present and mindful. Stay a few minutes after class to get a complimentary puppuccino (whipped cream) for your pup!
Location is at Stackt Market's Bark Yard - 28 Bathurst St, Toronto, ON M5V 0C6

Note: You will need to sign a waiver prior to beginning the class. 
Customer Reviews
09/05/2022
Tara B.
Canada
Super fun event with my fur babes
Great idea to have a nice afternoon with dogs and yoga. My only comment would be for the actual location. Awesome spot but no umbrellas for shade and it was superrrrrr hot out that day even the tuff was burning hot. Wasn't ideal for my dog for a hour. Otherwise all for these types of events. Loved that people came without dogs too just to enjoy the class and the super cuteness overload! Xo thx Tara
09/04/2022
Lucy T.

Canada
PAWSOME FUN!
This yoga session was quite possibly the most I have laughed in a long time. The doggos were so well and badly behaved at the same time, it was adorable. Also, an utter challenge to reach a zen-like tree pose whilst doggos are going nuts. So much fun. I am super hopeful this becomes a regular feature next year when the weather improves again!
08/02/2022
Catherine C.

Canada
My dog also loves it! :)
I would highly recommend this byod yoga class. Unlike other doga classes, where I had to keep my dog to myself, dogs were allowed to roam around freely in a safe environment, while us humans were able to do yoga at our pace. Can't wait for the next one!
They Don't Call It "Downward Dog" for Nothing
If you've ever done a workout beside your pup, then you've seen how excited dogs can get: from giving out a ton of kisses, to jumping up in the air to reach you; doggos think workout time is actually play time. We wanted to bring this encouraging energy and mix it up with a fitness class where you and your pup can enjoy your afternoon together. Along with excitement, dogs are born with an innate ability to live in the moment. We're glamourizing the use of dog parks and we've got the perfect partners - our dogs!
FAQ
Absolutely! Doggos is known for its dog-friendly events and we encourage you to bring your pup as long as they are friendly with other pets and humans. As a dog owner, you will be responsible for your pet at all times, however, they will be able to roam freely unleashed.
Can I come without a dog?
Is the yoga class for dogs or humans?
What do I need to bring with me?
Is there an age requirement?
I am new to yoga, can I still join?
Will there be photos taken?
What makes this a BIPOC event?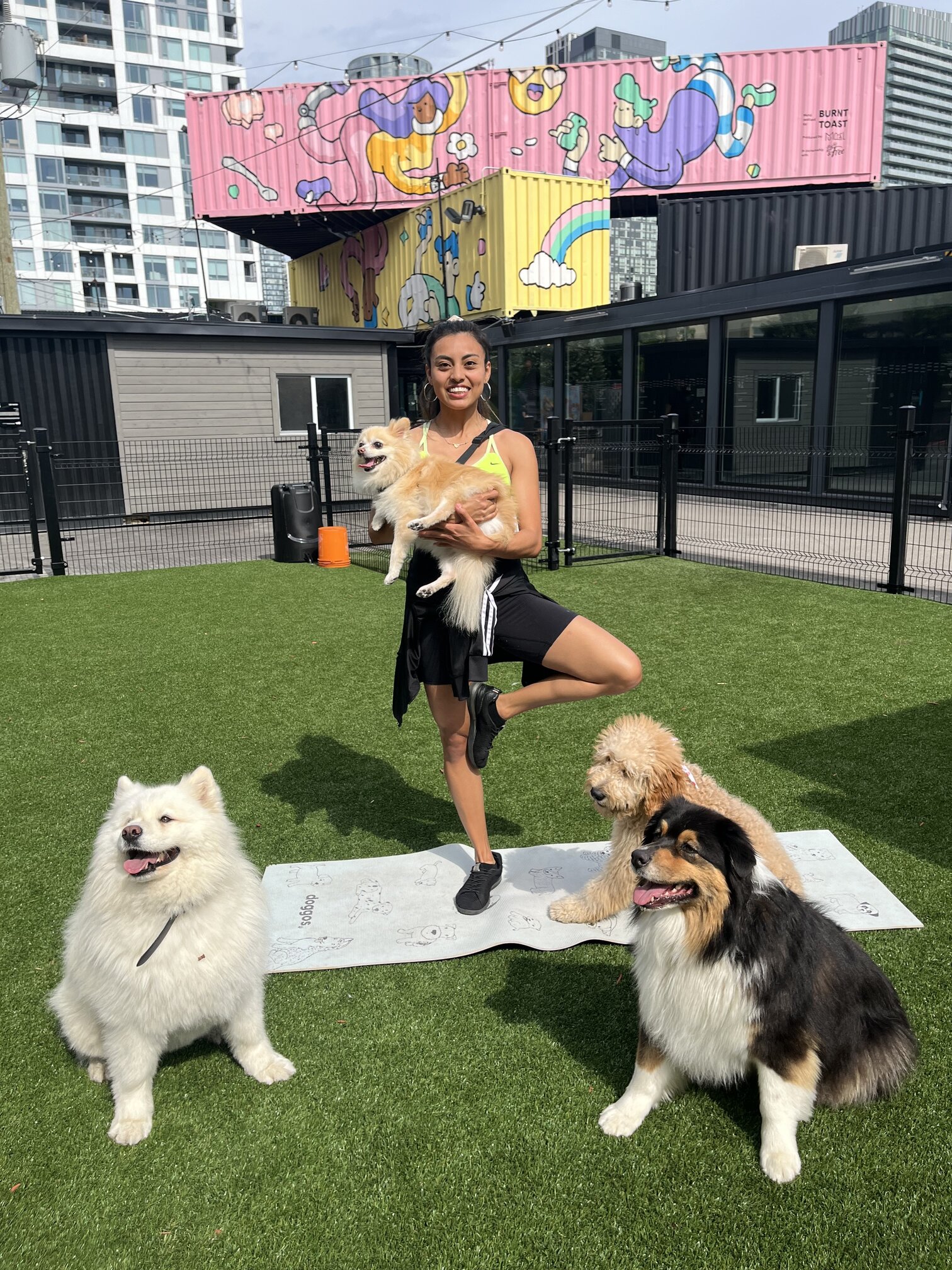 Stackt Market's Bark Yard
28 Bathurst St, Toronto, ON M5V 0C6
Designed entirely out of shipping containers, Stackt Market is an ever-evolving cultural marketplace featuring a mix of shops, a microbrewery, top chefs, killer city views + lots of ongoing community programming.
This year, Stackt Market brings back BACKYARD - a four-part festival where you'll be able to escape the dense concrete jungles of Toronto, get outside + explore your own backyard with immersive programming at stackt all day long. Filled with good eats, live music, a vendor market presented by Biossance + brands popping up to connect + inspire. Start in the sunny afternoon exploring the market + take it late into the evening with live music, beers + bonfires. Include a visit to the newly opened dog park BARK YARD.
Learn More