Book a puppy party
Spend some memorable moments with an adorable litter of puppies in a fun, unique situation. We help you source, and plan a variety of puppy events including puppy socials, puppy yoga, puppies & pastries, puppies & cocktails, and more.
Read our FAQ below and fill out our form to get started!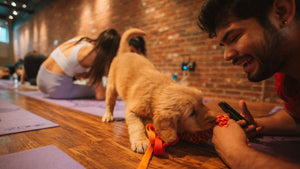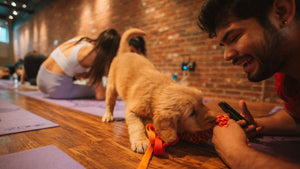 If you have trouble with the form, please email INFO@DOGGOS.CA directly.
Frequently Asked Questions
Do you offer puppy party for kids?
Our puppy parties are geared towards guests over the age of 16. Unfortunately we do not offer puppy party for attendees under the age of 16.
Where are you based?
Doggos is based in Toronto, Ontario. Currently, we offer puppy party planning and co-ordination services for: Toronto, the Greater Toronto Area, Montreal, and New York.
We plan on expanding to more cities soon!
How much do your events cost? I don't see a price list or a rate chart.
Given the customizable nature of our events, we are able to provide the most accurate quote after learning more about your vision for the event.
Therefore, we ask that you fill out our booking form above with as much detail as you can so that we can best assist you with your event.